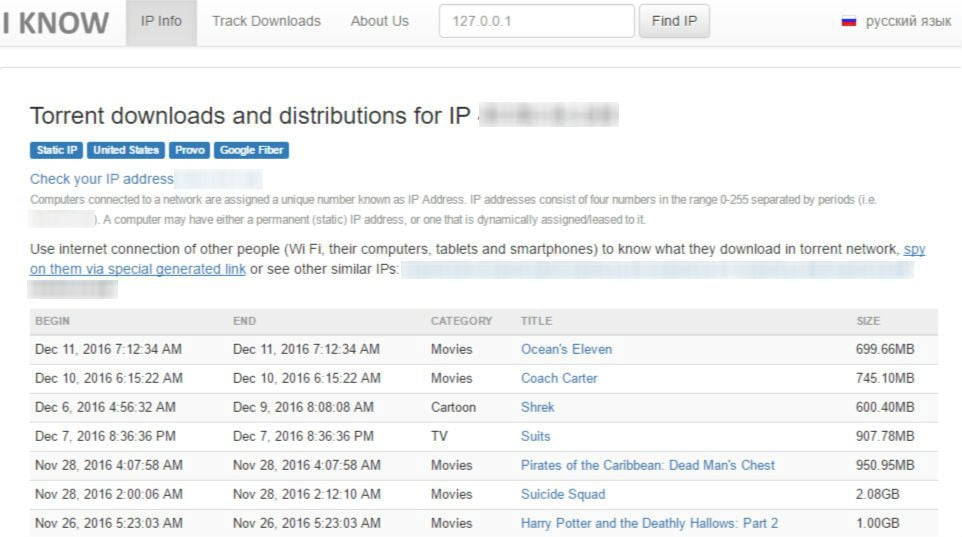 The page that tells you which torrents have been downloaded from an IP address
Now a new website has come, called "I Know What You Download" link: http://iknowwhatyoudownload.com/ which perfectly exemplifies this; Is a web that allows us to verify which torrents have been downloaded from a specific IP address.
The page is very intuitive, we just have to enter any IP address in the browser and it will show us a list of the torrents that have been downloaded from that address. It will also show us a list of related addresses (from the same carrier) to compare results.
The page has a large database of 460,000 torrents downloaded by 70 million unique IP addresses; All this data has been captured only in the last month, so it is sure to get bigger.
Of course, that is not quite perfect. In my case, I can safely say that there are torrents, downloaded from public trackers, that you have not detected. Therefore, the data you get with this tool must be picked up with tweezers.
Keep in mind that this website does not point the finger to specific users, but to IP addresses. Not the same, since the vast majority of normal Internet users have a dynamic IP connection.
With a dynamic IP connection, every time your router restarts it will ask for a new address for your ADSL or fiber company. So only your operator knows who has used a specific IP address and when has used it (although this is a fact that can be shared with the authorities).
The tool to know what torrents a person is downloading
Instead, the other tool offered by the web borders on the breach of privacy. This functionality allows us to create a torrent link that we can share with friends or on social networks.
Once opened, we can see what torrents have been downloaded from the IPs that have opened the link.
Finally I leave a hacking with google to see the torrents downloaded with hacking material 🙂
Dork: site: iknowwhatyoudownload.com "hacking"